This may sound like a weird topic, but as most of us have a common interest in science to some extent, I think it will be interesting to examine ancient inventions, some of which are scarily advanced. Take Crete, which had an advanced septic system and cesspool for flushing toilets in 2500 BC, before even the Greeks, yet we didn't rediscover that technology until the 18th century.
Some thoughtful questions if you're up for it:
1. Why is the invention you like important? Why is it cool, or revolutionary for its time?
2. What use did the invention probably have?
3. Do you think the progress for the invention's improvement was stopped by the Dark Ages?
4. Did the inventor face criticism in their time for their ideas?
5. Do you have a favorite ancient inventor, mathematician, et cetera?
My contribution: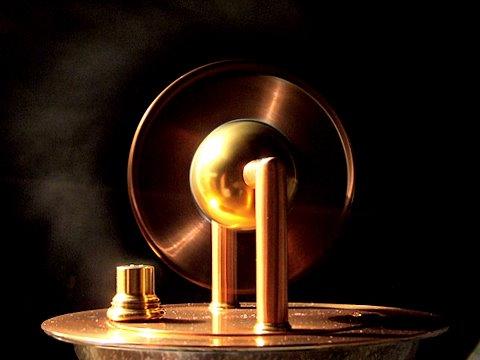 Actually a steam reaction turbine, the Aeolipile was invented by
Heron of Alexandria
in the first century A.D.  In modern times it is often referred to
simply as "Hero's Ball".  This ingenious device was described in detail
in Heron's book
Pneumatica
.  A fire beneath the cauldron
boils water, producing steam which is conducted through one of the
copper supports to the pivoted brass sphere.  This steam issues from
nozzles at the ends of the two small opposing arms on the sphere causing
it to rotate.  This little replica spins almost silently at 1500 RPM
with a steam pressure of only 1.8 pounds per square inch, producing
surprisingly little visible exhaust.
The secret of Heron's invention was in the bearings (the only high speed
bearings of his day were probably on the wheels of a cart).  In the
Aeolipile only one of the supporting arms carries steam into the sphere,
through a sleeve bearing.  Since there is no thrust bearing on this
arm, steam pressure pushes the sphere toward the other arm containing
the thrust bearing.  That arm is solid and has a conical point, bearing
against a conical indentation on the surface of the sphere.  Hence the
rotating sphere is held in proper position.
source:
http://modelengines.info/aeolipile/
The steam ball was actually only a hair's flutter away from becoming the basis for a steam engine, which would have kick-started the industrial revolution during Heron's lifetime. This isn't the only absolutely fantastic invention this man was responsible for, but I will leave his even more astounding ones (such as his experimentation with "computer programming" in a way most of you probably wouldn't think!) for anyone who may want to post about them.