The Facebook high road is hard to take, especially for an aging hockey player who lived for the fights and the competition. Perhaps this is why I will visit this misery upon the dear members of Think Atheist. I need to vent.
I don't normally entangle myself in Facebook political or religious drama. I do have conservative friends that I exchange friendly debates with, however. One happens to be on Facebook and he comments on my posts and so I feel free to return the favor. Mostly, it is done in a civil manner. We both recognize that we are friends above all.
Recently, however, I allowed myself to get dragged into a debate where a third party was compelled by his passions to get his two cents in. The debate was fine, but notice the change in tone of this person when I inform him that I have no interest in discussing the matter with him. Oh, here, I have screen shots!
It starts out with a video that you can watch
here.
Basically, it was a cartoon that explained how America worked (50 years ago) and the dangers of selling your freedoms away for security. My good friend Tim meant it as a jab at Obama and Socialism. Being the deviant I am, I made different connection. This was intended to illustrate that this "prophetic" cartoon could be interpreted many ways.
Well...here, have a look at the conversation. Can you spot the similarities to religious think? And notice the anger of Derek, the third wheel. Full disclosure: my "Christian" name is Ken, thus Kenny will be used a few times in the dialog. Melissa is Tim's wife.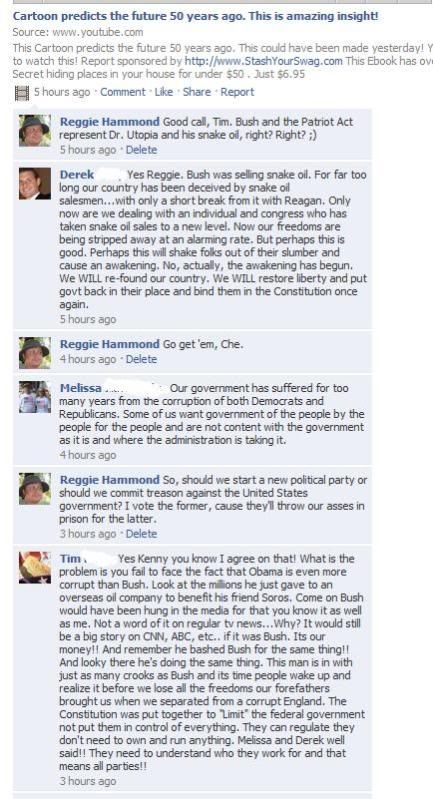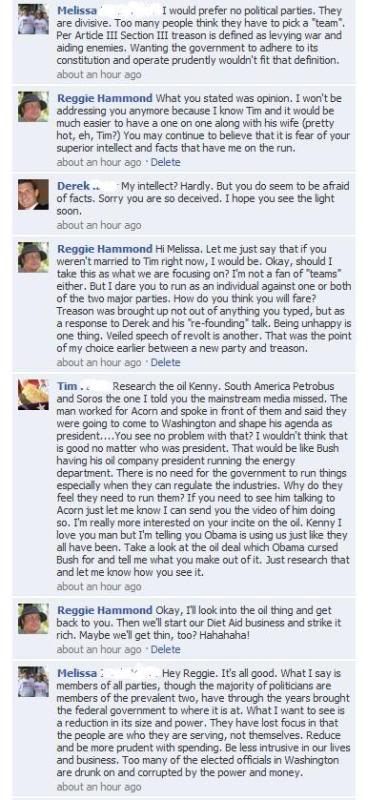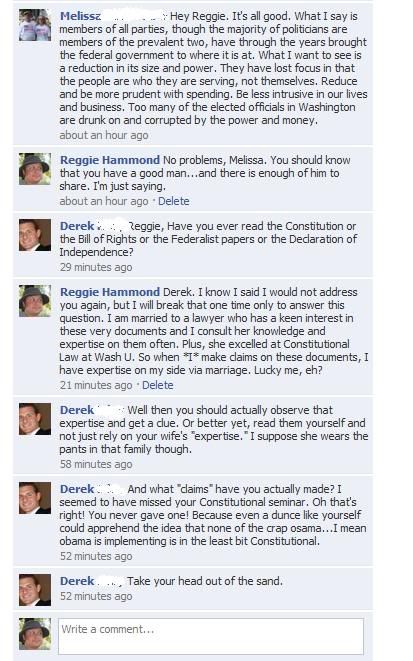 Of course I am raging to set this fucker straight. Alas, I did slip and respond to this Alex P. Keaton wannabe once after I said I would not address him again. Now he is baiting me.
However, Tim private messaged me asking to take the discussion off the thread, told me his wife was enamored by me, and admitted to enjoying the debate with me. I found some info on Fact Check Dot Org regarding the oil and gave a brief synopsis of my search. I began by researching conservative claims. They were without teeth. He promised to come back with a read of my findings and better sources for his claims.
But look at Derek. Just begging for an education. I could dissect the myriad ways in which he displays his ignorance. But I think I will let his words do the job. As my wife said earlier, "you can't fix stupid". I'm so glad I let her wear the pants.
Thanks for letting me vent.