Shortly after Barack Obama was elected, a bizarre phenomenon came, seemingly out of nowhere. Suddenly the news was full of stories and images of a group of angry protesters calling themselves "The Tea Party." Although they claimed to be "populist" and "non-partisan" it should be obvious to anyone who has been following their political positions and the candidates they choose (all hard-right republicans) that they aren't "progressive" nor "populist"; and they are especially not "non-partisan." They are astroturf. - A new term I learned from a book about them called Crashing the Tea Party. According to the book, the new term "astroturf" is an analogy to the common use of using fake grass called "astroturf" on football fields instead of real grass. Therefore, a political "astroturf" movement apparently refers to a fake grassroots movement that puts on a public facade of one stance, while secretly hiding something else.
So, the "Tea Party" is astroturf. After only a couple of years of watching their activity it becomes obvious that FAR from being "non-partisan" the Tea Party is EXTREMELY partisan... they are Hard-Right Reactionary Conservative Republicans with an extreme distaste for multi-culturalism and religious diversity. 
This becomes quite obvious just by examining the cover of Newt Gingrich's rag of a book To Save America: Stopping Obama's Secular-Socialist Machine. Right... so... anyone who still doubts that the Tea Party is an astroturf movement of Crazy Reactionary Christianists... well... please examine the word "Secular" in the TITLE of Gingrich's poor excuse for a book. 
As most true progressives have noted, the Tea Party gained an alarming victory in the 2010 congressional elections and re-took the House of Representatives for the Republicans in the process. 
I spent a good deal of time fretting over that.
But... is there a ray of hope?
In the time since the republicans took back legislatures and executive offices across the U.S., something interesting has happened.
First, in the past year the Tea Party has been remarkably silent. O_o
Second... a new and real grass-roots, populist movement has risen out of nowhere in the past year in outraged response to the Tea Party launched assaults on Unions and Public Servants, including firefighters, nurses, teachers, social workers, police officers, etc. 
This new movement suddenly materialized for the first time back in March in a mass protest of the assault on Unions in Wisconsin.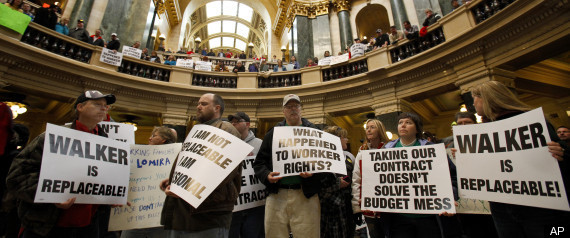 And soon after, they appeared in my home state of Ohio, protesting the similar outrageous "Senate Bill 5" signed by the TEA PARTY ELECTED Governor John Kasich. 
The protestors in Ohio held a similar demonstration to the one in Wisconsin and managed to break records by getting 1,298,301 signatures on a petition to get a vote on the ballot for a chance to repeal SB5. The number is telling, because they only needed 400,000 signatures to make the ballot. 
This November, Ohioans will be able to vote on "Issue 2" - whether or not to repeal SB5.
The power of this new movement is striking.
Senate Bill 5 has angered thousands of Public Servants because it has effectively blocked the ability of their unions to do any collective bargaining, cut health-care benefits for workers, eliminated pensions for teachers, and abolished the School Employee Health Care Board. 
Needless to say, Governor Kasich has become extremely unpopular.
But even more interesting is that this true grass roots movement appears to be a potential "nemesis"/ antithesis of the Tea Party. And... that the Tea Party hasn't said anything about them.
In the Title of this blog post I jokingly called this new progressive movement "The Coffee Party." lol. 
The "Coffee Party" is currently making themselves known yet again in the downtown area of my city and all over the country in a new protest they are calling "Occupy Wall Street."
Several individuals participating in the regional version of Occupy Wall Street in downtown Cincinnati have been fined by police for camping out for three days in Piatt Park. 
The "Coffee Party" protesters are just as angry and just as determined as the Tea Party, but they aren't faking being populist and progressive... they really are. 
So... yeah... calling them the "Coffee Party" was a joke. But, they are the real deal... and the very nightmare of the Tea Party.
Interestingly... while the Tea Party hasn't had anything to say about this counter movement... the counter-movement has sure remarked on them!
Compare the Following two pictures!
Tea-Party Sign

Occupy Wall-Street Sign
So yes... calling them the "Coffee Party" is stupid. But the backlash against Tea Party Politics is happening faster and more aggressively than I had anticipated. 
And I'm cheering the true American Populist Uprising! Go protesters! Occupy Wall Street! ^_^