I went to a wedding just outside of Kansas City. It was a rural area at a secluded church in a heavily wooded area. Before we arrived, we decided to stop at a Burger King just off of the highway. We ordered our food and I left to use the restroom. When I returned, my fiancee had chosen a table and sat idly by with our food on a tray. I took my seat across from her and bless her heart if she didn't pick a good table to sit at. On our table, and no one else's that I could tell, was this: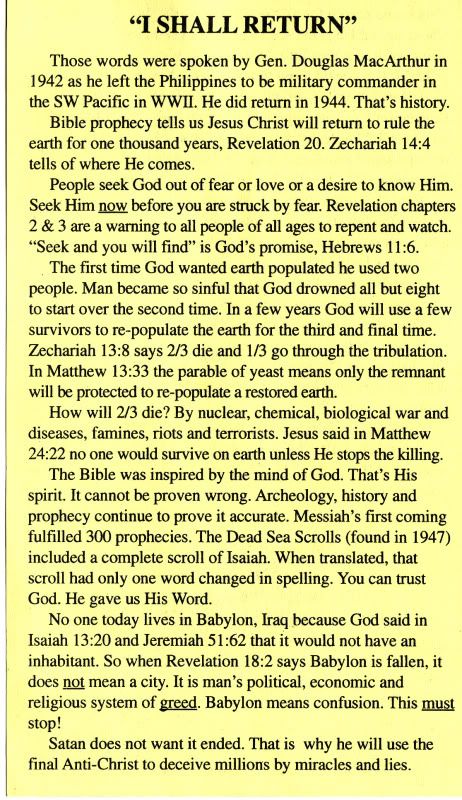 A flyer that was as insane as it was mesmerizing. Smiling, I carried it to my truck after our meal as if it were a prize. Arlo had even put his personal contact information on this flyer. I post it here not so anyone can harass him. However, he does explicitly invite people to reproduce and distribute this, so I feel that I have his permission to post his information. Plus, it is such good, delusional, insane propaganda that I can't help but share this. Do feel free to ask him for a bible!
I thought I had something special, the ravings of an especially unhinged fundie. Sweet, baby Jesus battling UFO's? Fucking awesome! Of course, I thought that would be the craziest thing I read all day....until I arrived the fire and brimstone Baptist church.
Their
literature was even more insane! I tried to surreptitiously nab one of each pamphlet that I saw. I felt guilty and fearful, as if someone would come around the corner and see me with these pamphlets in my hands, point at me, and screech loudly a la
Invasion of the Body Snatchers
. I felt that if I was seen, everyone would know my intent. But, this was good stuff that many of you who have left religions like this are most likely all too familiar with. So I persevered by gathering all the bravery I could muster and then begged my fiancee to stash them in her purse.
Alas, this was months ago and I will have to find what I did with these wonderful pieces of propaganda. If and when I find them, I will post them for our amusement and discussion.