Today in Europe the Big Thing on TV was the Germany vs. Greece game. Check out the front pages of some European news, bild.de, BBC, lemonde.fr, and you will see it being on top of the sports headlines - and thus people's minds. Admittedly I am no fan of football/soccer, but I do like to watch those games I know is going to be part of history. Last time I watched football it was the World Cup and I believe Spain won (it's hard to pay attention to.)
Today's game is one of those games which will go down in sports history - a classic David vs. Goliath. It's more than just another football match, it's two nations testing each other in a perfect substitution for war in a fairly civilized and regulated test of strength. The Greeks, which are struggling bad economically, are facing the Germans, which are doing quite alright economically. As a side note, the media reports steadily that the Germans have been calling the Greeks lazy lately, and that the Greeks don't like to hear it, because the Greek owe the Germans a lot of money which they probably won't be able to pay back unless they work better. 
It is hard times upon Greece these days. Scenes like these, from a very respectable source, and many other scenes and reports of devastation from all types of sources drives that point home very well. The Germans have some seedy areas also, but they are nothing near the seedy areas of Greece. The seedy areas of Greece are becoming slums, and Greece desperately needs German help to recover. This is what the game was really about.
The Greeks came to the game begging the Germans. I'm not joking, they are actually wearing German flags. Look, Greece played in blue and it's quite prominent: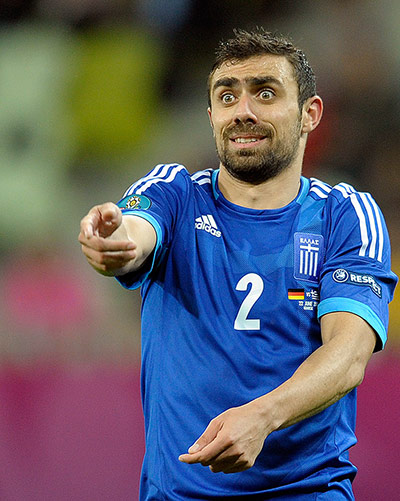 So after quite a lot of push the Germans finally scored a goal after around 40 minutes of boringness. Then it was a break (breaks in football are 15 minutes long and boring). Then it was a lot of boring until suddenly the the Greek player Samaras, which by happenstance is the namesake of the newly elected Prime Minister, score and there is a bit of excitement, especially over context. However no one believed this to last for very long, the Germans were relentless with like 17 to 5 shots on goal. And it didn't, the equalizer lasted for 6 more minutes until Germany scored again. And then it was clockwork, another German goal after 7 minutes, and 6 minutes later a final psychologically humiliating blow of 4-1. The Greeks managed to score a consolation goal in literally the final 89th minute.
Football/soccer is perhaps the largest secular religion in the world. Atheists should be wise to keep track of it. There's already been a Football War (!)
Also, the game made me think of this: