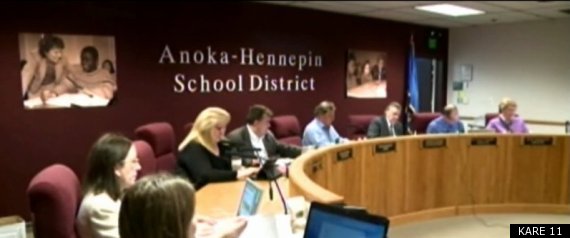 A group of conservative Christian parents are demanding Minnesota's Anoka-Hennepin School District teach "ex-homosexual" therapy and "gay-related-immune deficiency" (or "GRID"), the Twin Cities Daily Planet reports.
The demands come as the school district is in the middle of changing their "sexual orientation curriculum policy," which students claim produces a "hostile school environment" by banning the discussion of LGBT issues.
Zack Ford of Think Progress writes that the parent's mention of GRID makes the proposal "particularly offensive," since the the term hasn't been used by the medical community to describe HIV/AIDS for over 25 years, making it outdated and inaccurate.
But the conservative parents, members of the Parents Action League, want the district to keep the policy in place and double down on anti-gay policies.
A resolution submitted to the district by the Parents Action League includes demands such as providing "pro-family, ex-homosexual, ex-transgender information and websites to all counselors, school psychologists," according to the Daily Planet.
The full resolution, as read before the school board by parents Brian Lindquist and Mike Skaalerud is available on the Daily Planet website.

The school district will vote on a newly revised policy on Feb. 13, the Star Tribune reports.
Close to 20 students thanked the board for its decision to vote on a new policy, after the proposals by the Parents Action League upset them and others.
The school district's previous policy garnered criticism after six students in the district committed suicide in less than two years, some of whom were gay, KARE 11 TV reports.
Tammy Aaberg, mother of one of the students who committed suicide, told the station the new policy is better than the current one because of a clause that would require all school staff to "affirm the dignity and self-worth of all students" despite the mandate to avoid "controversial issues" like homosexuality.
Here's the policy they would like added:
Whereas Anoka Hennepin District 11 has devoted a special section on their website to GLBT issues, training and awareness.

And whereas the theme of school safety is being used as a pretext to advance a much broader agenda, the legitimization of homosexuality and related conduct to impressionable school children

And whereas the Anoka Hennepin school board is considering removing the protective sexual orientation curriculum policy, an action that undermines the academic focus of this district and open the door to pro-homosexual and related conduct materials in the school curriculum thereby exposing students to concepts hostile to there religious faith and/or moral conviction

And whereas school officials would be liable for violating parental rights by subjecting a child to homosexual and related conduct indoctrination

And whereas the Supreme Court in Meyer v Nebraska has held that parents' right to direct the moral upbringing and education of their children is one of the most fundamental of all rights and a failure to abide by parental rights can result in liability for damages both the the school district

Whereas schools may face liability for intentional and negligent instruction of students who rely upon false and misleading information about sexual conduct and are subsequently harmed.

Whereas as superintendent Dennis Carlson and prevention coordinator Barry Scanlon went on a listening tour visiting the nine GSA clubs in the district January thru May of 2011 and have not conducted a listening tour with students of faith, moral conviction, ex-homosexuals and ex-transgenders

And whereas district 11 has ordered copies of pro-homosexual video "It Gets Better: Coming Out, Overcoming Bullying and Living a Life Worth Living," edited by Dan Savage for secondary media centers

And whereas legal liability exists for the tort of negligence if it is proved that homosexual activists and organizations were granted access to students under responsibility and that students suffered physical or mental harm.

Therefore be it resolved the Parents Action League in Anoka Hennepin School District 11 demands the following ten actions be taken by our shcool board.

1. A new division within the student support services and a special section on the District 11 website devoted to student of fiath, moral conviction, ex-homosexuals and ex-transgenders.

2. A listening tour by Superintendent Denny Carlson and district prevention coordinator Barry Scanlon with students of faith, moral conviction, ex-homosexuals, and ex-transgenders.

3. That District 11 administrators and staff work closely with pro-family and ex-homosexual and ex-transgender organizations to provide ongoing training to school counselors, school nurses, social workers, school psychologists, prevention specialists, student learning advocates and a number of secondary principals and principals.

4. Provide professional development opportunities in which philosophical, pedogogical, and political assumptions of GLBT advocacy are critically examined.

5. Provide webinars, seminars for all staff on over-coming sexual disorders

6. Provide training on bullying and suicide that protects all students.

7. Provide the history of gay-related immune deficiencies and acquired immune deficiencies and the medical consequences of homosexual acts.

8. That all health classes that address homosexuality be required to provide up-to-date information from the CDC on sexually transmitted diseases and HIV among the groups the CDC designates as men who have sex with men.

9. Provide the following pro-family, ex-homosexual, ex-transgender information and websites to all counselors, school psychologists

classroom teachers [the list was submitted to the board and not spoken at the meeting]

10. Provide pro-family, ex-homosexual and ex-transgender videos to secondary media centers.