A Nation of Tragedies: The Unseen Elephants Wars of Chad
Jeremy Hance
mongabay.com
May 12, 2010
Chad's few remaining elephants are "survivors of a 'holocaust'".
Stephanie Vergniault, head of SOS Elephants in Chad, says she has seen more beheaded corpses of elephants in her life than living animals.
Stephanie Vergniault, head of SOS Elephants in Chad, says she has seen more beheaded corpses of elephants in her life than living animals.
In the central African nation, against the backdrop of a vast human tragedy—poverty, hunger, violence, and hundreds of thousands of refugees—elephants are quietly vanishing at an astounding rate. One-by-one they fall to well-organized, well-funded, and heavily-armed poaching militias. Soon Stephanie Vergniault believes there may be no elephants left.
A lawyer, screenwriter, and conservationist, Vergniault is a true Renaissance-woman. She first came to Chad to work with the government on electoral assistance, but in 2009 after seeing the dire situation of the nation's elephants she created SOS Elephants, an organization determined to save these animals from local extinction. As a writer Vergniault is also working on a screenplay related to the ivory trade in Chad and elsewhere in Africa.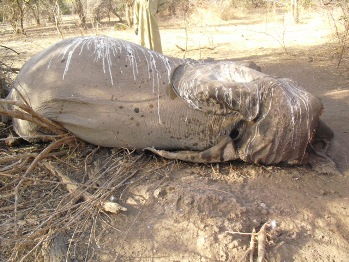 Poached elephant: poachers cut off the trunk and sometimes the head to get at the ivory tusks. Photo courtesy of Stephanie Vergniault.
"The population of Chadian
elephants was around 20,000 in the 1980s, but due to the intensive poaching, it was reduced to a little more than 3,000 today," Vergniault recently told mongabay.com, illustrating a total decline of 85 percent in less than three decades. And that number keeps falling: 105 elephants were killed by poaching in the region of Logon Oriental during the month of April alone. According to Vergniault if poaching continues at this rate not a single elephant will be alive in Chad in three years time.
SOS Elephants is working desperately to establish ways to stop poaching in Chad, yet they face off against poachers who are highly-trained and well-compensated soldiers-of-fortune with access to sophisticated technology, not simple locals driven to kill elephants out of desperate poverty.
"I doubt [the poachers] are living in Chad," Vergniault says. "They have a kind of Arabic nomadic style: traveling by horses divided into small groups of 5, sometimes with camels to carry the ivory. They are apparently former soldiers, since they are very well trained when shooting."
Vergniault says that she believes the poachers have their main base in the Central African Republic, and are likely operating both in Chad and Cameroon. These poachers are also equipped with the latest in technological advances, including GPS and satellite phones. They may even be employing satellite imagery to locate and follow elephant herds.
"Due to certain sources that I cannot for the moment reveal, we are really wondering if they are not using satellite pictures to localize the groups of elephants," Vergniault explains. "It is very important for us to understand how the traffic is organized abroad and if the 'guys' behind the traffic have very sophisticated ways to operate and are able guide the poachers due to very high satellite picture, perhaps even military quality?"
Who is ultimately organizing and paying these militia-poachers no one knows. However, the ivory does not stay in Africa, but most likely ends up in far-away China, a nation known for a rich market of illegal wildlife goods.
The only way for SOS Elephants to even begin combating such determined poaching is by working closely with locals and the Chadian government.
"We are slowly establishing a very good network of local informers who have been taught by us to give us the position of poachers or elephants. Due to our very good relationships with the Chadian authorities, we are alerting the Mobile Forces of Protection of the Environment and sometimes even the Head of State to ask him to send troops whenever it is necessary," Vergniault says, adding that the Head of State of Chad, Idriss Deby Itno, has become a heroic ally in the war to save the nation's elephants.
| | |
| --- | --- |
| | Officials seize ivory with killed elephant in the background. Photo courtesy of Stephanie Vergniault. |
The government, Vergniault stresses, has been incredibly helpful. In fact, it's not only elephants that are losing their lives to poachers' ammunition, but Chadian soldiers as well. Last month poachers killed two Chadian soldiers in a single weekend. The elephant wars are a human tragedy just as much as a wildlife one.
Along those lines, SOS Elephants is not content to only work on the poaching issue, but is also helping locals protect their fields from hungry elephant.
"Because we need to enhance the quality of the relationships between elephants and farmers, our second kind of activities is to teach the people how to better protect their crops," says Vergniault, who has worked with farmers to employ red pepper as elephant-repellent, including planting red pepper around their fields.
Historically, Chad's elephants have migrated both to Cameroon and the Central African Republic using the same corridors for centuries, but recently farmers have moved into many of these corridors planting crops, which has brought sensitive elephants and humans closer together. SOS Elephants is also working with authorities on plans to move people out of the elephant corridors.
| | |
| --- | --- |
| | Vergniault overlooks carcass with soldiers for protection. Photo courtesy of Stephanie Vergniault. |
"A lot of education should be done with locals to explain that elephants can produce income and that it is [the local's] duty to alert the authorities when poachers are around," Vergniault says, but adds that saving Chad's elephants is not just up to Chadians.
"At a greater level the International community should pressure all the states buying [ivory] to condemn it."
As highly-intelligent animals, Vergniault says that the elephants of Chad have not been left psychologically unscarred by the poaching war waged against them. In fact, the constant pursuit by armed killers—and tens-of-thousands of their own dead—have made the elephants of Chad increasingly aggressive, and even murderous.
"Elephants have a very good memory and, in my opinion, most of them are now survivors of a 'holocaust'. They have seen other elephants from their groups killed by humans and more and more they are taking their revenge and are becoming serial killers," Vergniault explains. "It is a pity! The remaining elephants of Chad are survivors and their only way to survive is to be very aggressive. For example, every time Chadians elephants see a horseman, they charge! Why? Because poachers are horsemen!"
Elephant poaching is on the rise globally, but in all the media covering the issue the massacred elephants of Chad have been largely ignored: Vergniault hopes to change this.
In a nation still considered unstable—where approximately 80 percent of the population lives below the poverty line and hundreds-of-thousands of refugees have arrived to escape violence in Darfur—saving elephants may appear unimportant next to the scale of human tragedy. Yet, if one is to hope for the future of Chad, and of central Africa in general, one has to believe that species like the elephant can survive the current onslaught—just as one hopes the people will weather the long storm—and continue to inhabit a region where they have roamed for millions of years.
To keep up on the work of SOS Elephants join the Facebook page which sends out regular updates: SOS Elephants Facebook Group.
Questions for Stephanie Vergniault or offers of help? Please feel free to contact her: svergniaul@aol.com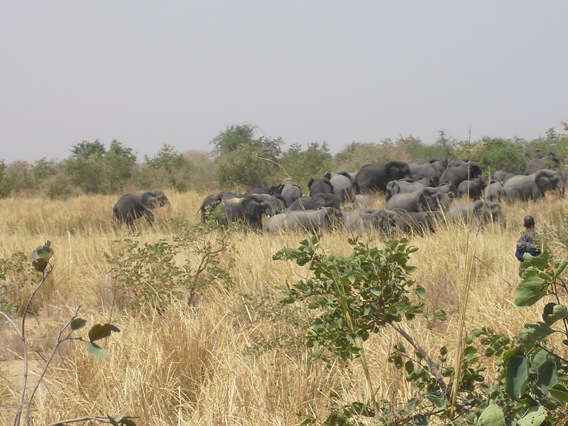 A herd of elephants roaming free in Chad. Photo courtesy of Stephanie Vergniault.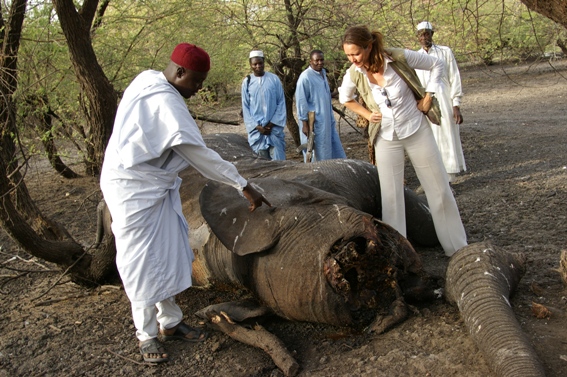 Vergniault inspects an 'average' poaching. Photo courtesy of Stephanie Vergniault.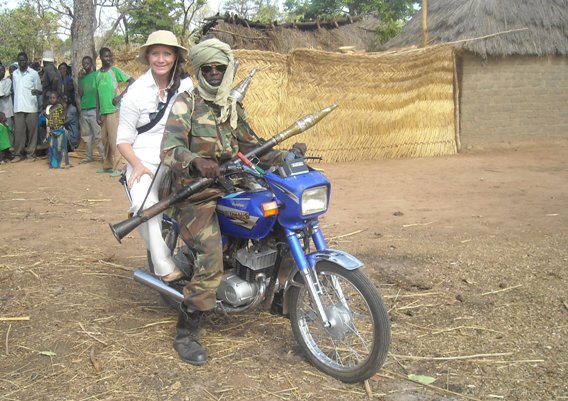 Vergniault rides with a soldier for protection. Photo courtesy of Stephanie Vergniault.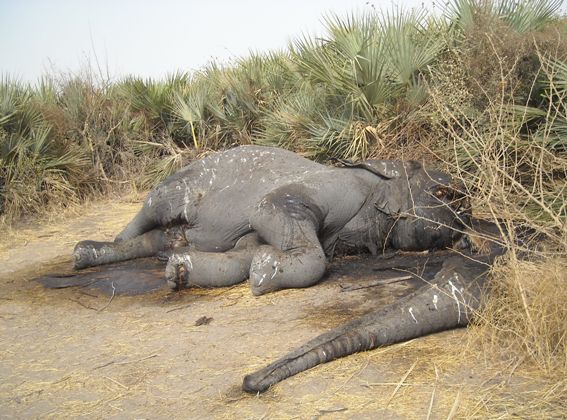 Poached elephant with trunk cut off. Photo courtesy of Stephanie Vergniault.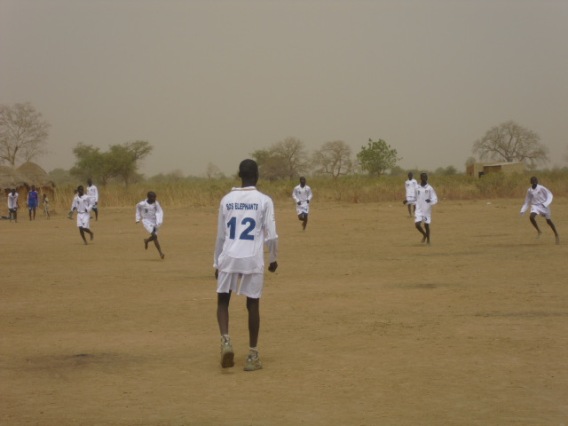 SOS Elephants works closely with local communities. Here they have
sponsored a local football team. Photo courtesy of Stephanie
Vergniault.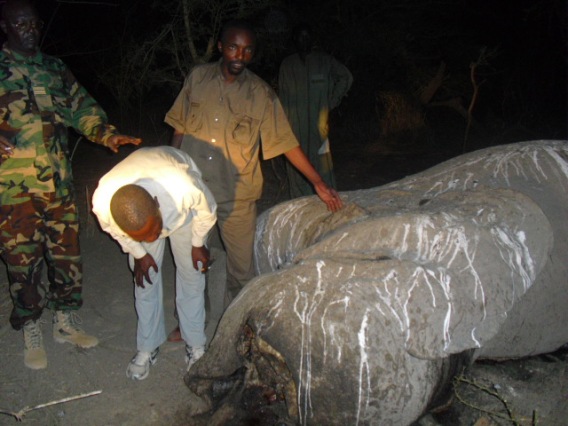 Poached elephant with its head cut off. Photo courtesy of Stephanie Vergniault.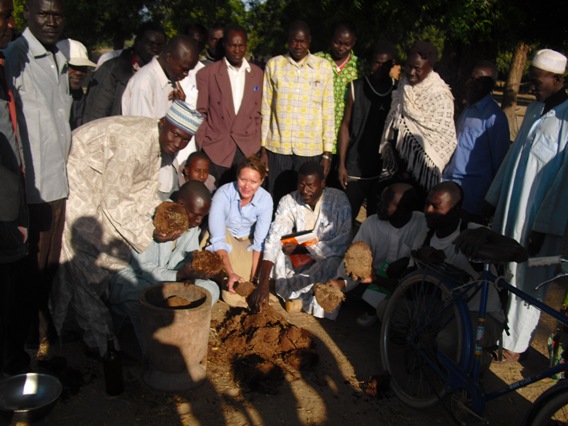 Vergniault working with locals. Photo courtesy of Stephanie Vergniault.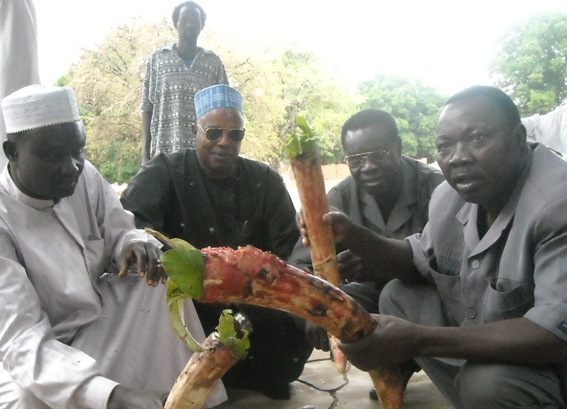 Officials hold up confiscated ivory. Photo courtesy of Stephanie Vergniault.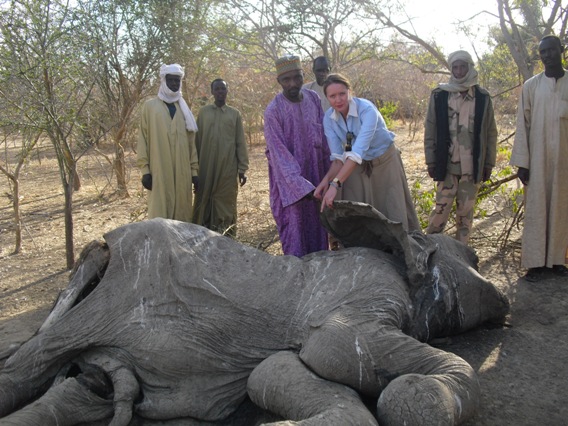 Vergniault examines a poached elephant. Photo courtesy of Stephanie Vergniault.
http://news.mongabay.com/2010/0512-hance_chad.html