No Money Man: The thrifty adventures of Mark Boyle
Mark Boyle lives the good life and does it without spending a nickel (or in his case, a shilling).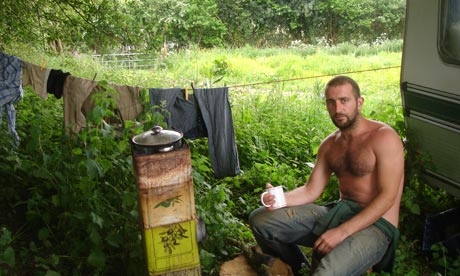 Mark Boyle outside his off-grid caravan.
Mark Boyle hasn't spent any money for the last 14 months. He lives in a small camper, makes or scavenges everything he uses on a day-to-day basis, and actually lives a pretty good life. Before making the big move to living without money, he made a list of all the things he uses and consumes and then figured out how to get by without buying.
He was pragmatic about his adventure — you can't make solar panels from scratch, so he bought a set that provide him with enough power to light and run his laptop (another nod to pragmatism). He takes solar showers, does his business in a homemade outhouse, and brushes his teeth with dried crushed-up fish bone and fennel seeds. To eat he practices the fine art of Dumpster diving and cooks on a
hyper-efficient rocket stove.
He's basically
No Impact Man
on (organic, fair trade) steroids.
Swing over to the Guardian UK to
watch a great video showing how he does it
. He makes some great points about wasting food and how we really need to make it socially unacceptable for grocery stores to throw away as much food as they do.
Boyle also wrote a
great article going into more details
on why he made his radical shift in lifestyle.
Check out Mark Boyle's
Freeconomy site.
http://www.mnn.com/earth-matters/wilderness-resources/blogs/no-mone...