Without a doubt I have a
Sweet Tooth
. I've tried to swear off the sweet stuff, but, but, but... Sometimes all I crave is something rich, sweet and decadent, and no piece of fruit is a suitable substitute.
Even Food Guru Michael Pollen says that you can eat 'junk' food as long as you make it yourself. What he means is 'naughty' foods are allowed
once in a while
, for a special occasion, not as a daily part of your diet. He insists that we bother to make it ourselves since it's a time consuming activity, and
ready made junk
is simply too easy, too accessible and too tempting. (So, no hiding boxes of '
Devil Dogs
' in the back of your pantry.)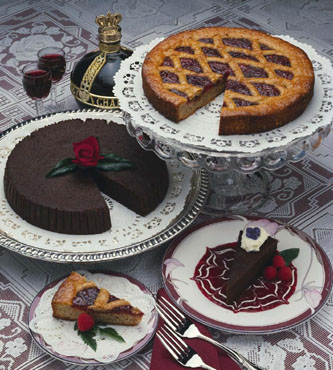 To tell you the truth, sometimes I'm nearly satisfied just reading dessert recipes and devouring the pictures of chocolate cakes... Certainly, there are many better-for-you desserts to indulge in, which do satisfy the sweetness craving.
Add your most '
sinful'
dessert recipes here. Either totally hedonistic or surprisingly healthy. My mouth is already salivating....